Golf Events 2019 At Dundrum House Golf Club
Below you will find information on some of the Golf Events and Competitions taking place at Co Tipperary Golf & Country Club.
For further information or to book a tee time please contact the Golf Club on Tel: +353 (0) 62 71116 or Email: golfshop@dundrumhouse.ie
St Patricks Weekend Team Event
Saturday 16th, Sunday 17th & Monday 18th March
2 Person Team
Any Combination (Ladies / Gents)
One score to count on each hole
Full GUI / ILGU Handicaps
Players can book online through BRS or our Website
Green Fees: Visitors €20 & Members €10
Open Singles
Open Singles at Dundrum House Golf Club takes place every Friday for the Summer Season, starting on Friday 5th April.
Green Fee €20 with an Early Bird to play before 11am for just €15.
Easter Competition
Friday 19th, Saturday 20th, Sunday 21st & Monday 22nd April
Dundrum House Golf Club is hosting an Easter Competition on Good Friday 19th, Easter Saturday 20th, Easter Sunday 21st and Easter Monday 22nd April.
Competition Format and Details to follow. Warm and welcoming Clubhouse Bar & Restaurant with great food served daily.
Scratch Cups 2019
Saturday 1st, Sunday 2nd & Monday 3rd June.
Look forward to a Weekend of Golf on the June Bank Holiday at Co Tipperary Golf & Country Club with the Annual Scratch Cups.
Great competitions on each day, which are open to both Ladies and Gents. Further details to follow.
Golf Winter Classic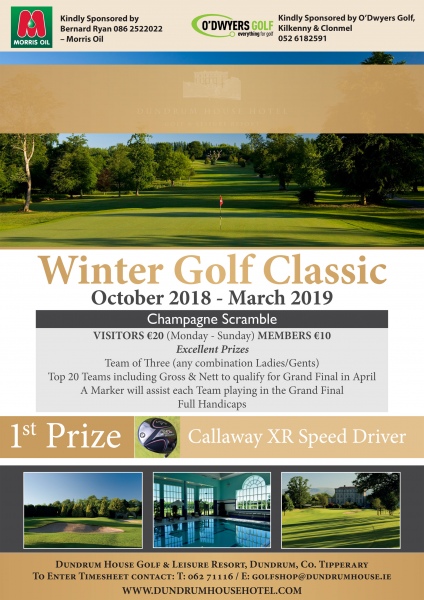 Golf Society Packages 2019
For further information, please contact the Golf Club on Tel: (062) 71116 or Email: golfshop@dundrumhouse.ie